I'm Ken Davis
Since 1999, I've served as Director of Church Planting with Project Jerusalem at Baptist Bible Seminary (BBS) and Clarks Summit University (CSU) in Clarks Summit, PA.  Project Jerusalem trains and coaches seminarians to be church planters while assisting local churches to plant churches primarily in the spiritually impoverished and under-churched Northeast. I teach church planting and other missional courses at BBS, while overseeing a recently launched online Master of Arts in Church Planting and Renewal degree program.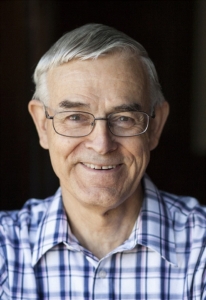 Previously I served for 23 years in Indianapolis planting churches cross-culturally and also teaching missions at Crossroads Bible College where I also served in numerous administrative roles. Because Crossroads focuses on training leaders for multi-ethnic urban ministry, I'm quite passionate about seeing many more healthy multiethnic and economically diverse congregations of faith in North America.
I've been associated with a denominationally independent global mission agency, Baptist Mid-Missions (BMM), since 1975.  My wife Sharon and I have been privileged to personally plant or help plant twelve churches–in South Carolina, Indiana, Pennsylvania, and more recently in metro New York. In addition, I've coached dozens of other church planters both in North American and abroad. Each summer I teach in BMM's annual School of Church Planting where we've trained hundreds of church planters and parenting church pastors over the last 30 years.
During my teen years I was a missionary kid (MK) growing up in Guyana, South America where my brother and I were the only "whites" in our English high school. By God's grace alone, I came to faith in Christ at the age of 15 in an evangelistic crusade in Georgetown under the ministry of evangelist Tom Skinner.
Over the years I've led short-term mission teams back to Guyana as well as to Ghana, Trinidad, and Mexico. The Lord has given me a passion for the global advance of the Gospel and particularly for reaching the unreached people groups of our generation.
Married over 45 years, my wife Sharon and I have four grown children and sixteen grandchildren—which keep us quite busy!  I love to jog, read, play with our grandkids, travel and learn about other cultures, and just hang out with my college sweetheart and wife, Sharon. Because our youngest daughter and her Canadian husband lived/ministered in China and Indonesia, we have been privileged to make five trips to Asia to visit them and learn more about what the Lord of harvest is doing in these strategic nations.
My hard-earned D. Min. in Missiology is from Trinity Evangelical Divinity School in Deerfield, IL and I have several other undergrad and graduate school degrees.
I seek
to be both a strategist and practitioner in the field of missiology. I've co-authored The Y-B-H (Yes, But How?) Handbook of Church Planting (Xulon, 2005—650 pages), which is designed to be a training text for evangelical Baptist colleges and seminaries. I've also authored the "Planting Daughter Churches" chapter in The Pastor: A Guide for God's Faithful Servant (RBP, 2013) as well as numerous journal articles on multicultural church planting themes. You'll be able to access those on this site.
I love
investing in Next Generation leaders. As part of my equipping and coaching ministry, I've developed numerous church planting training tools for church planters and pastors. Some of these are also available on this site.
These varied ministry experiences have led to many opportunities in recent years to serve as a consultant to local churches in the areas of church multiplication and revitalization.